Who Are The Top 10 Real Estate Investors In The World?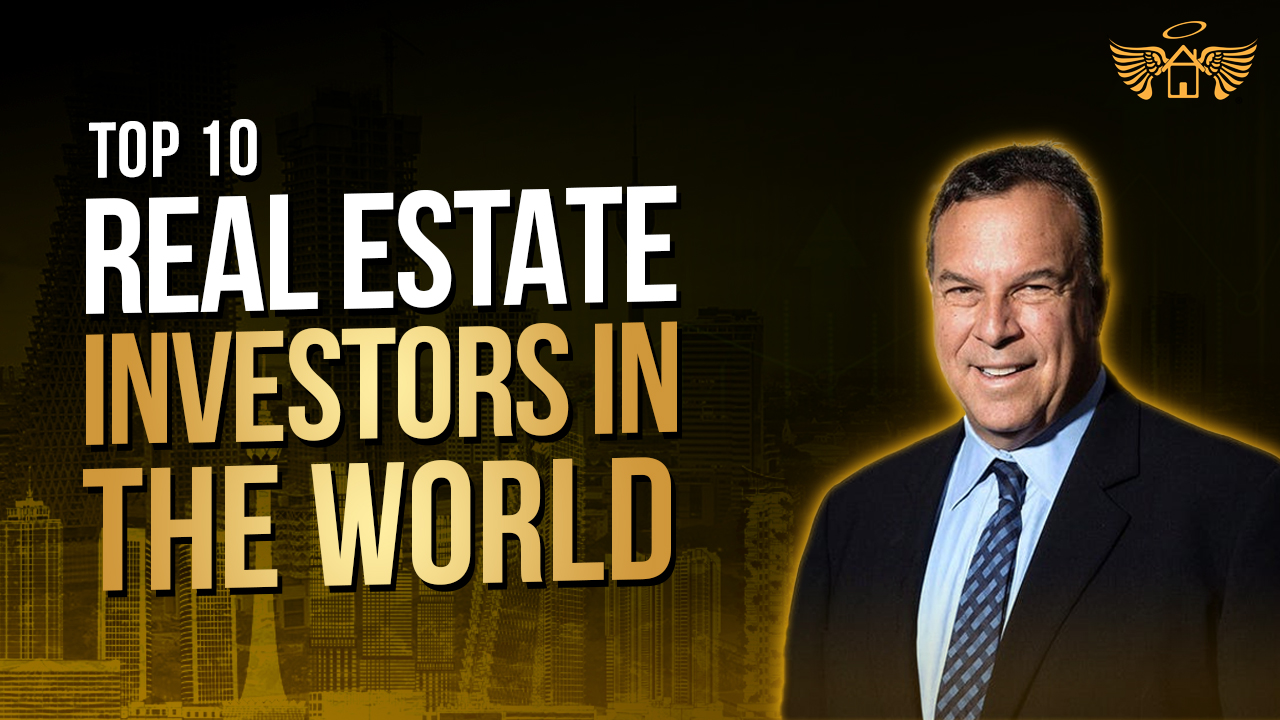 Hello, people. Welcome to the REH Real Estate Youtube channel. Investing in real estate is a great way to build wealth for years. With it, you can earn passive income for a long time. 
However, to explain in Real Estate heaven, this industry takes a lot of hard work and specialized knowledge to succeed. The following successful investors have shown that potential and they now have billion-dollar net worths! If you want more of this content, subscribe to the REH Real Estate Youtube channel and hit the notification bell.
Donald Bren
Donald Bren is an American real estate mogul, with a net worth of $16.2 billion. One of his subsidiary companies is the Irvine Company, which owns more of Southern California's commercial property.
His empire includes 125 apartment complexes and over 560 office buildings.
In Manhattan's MetLife Building, Bren owns a 97% stake.
The son of a real estate investor, Bren worked as an assistant for his carpenter father.
Stephen Ross
Stephen Ross founded Related Companies in 1972 as a way of building affordable housing. The company's Hudson Yards opened in New York City to the public on March 2019.
Related has developed or acquired $60 billion worth of properties of all kinds, the most notable being the 20-story Four Seasons Hotel in Shanghai that sits on a huge swath of land across the street from the Chicago Board of Trade and towers over Sul van Lake.
Related is building two mega-developments, The 78 in Chicago and Related Santa Clara in California, that are comparable in size to Hudson Yards.
Ross, who is the owner of the Miami Dolphins NFL team, has stakes in Equinox Fitness, SoulCycle, and numerous fast-casual restaurant chains.
Leonard Stern
Leonard Stern is the CEO and Chairman of Hartz Mountain Industries, corresponding to the subsidiary firm of Hartz. He also controls Hartz Group in which it works on the property marketing industry.
Hartz Mountain Industries was founded by his father after he died which allowed Lenny to become a millionaire.
The company's warehouse portfolio has done well over the years. Their other commercial buildings have helped their wealth surpass six billion dollars.
Sam Zell
With this investment, Sam Zell has become a legend in the world of real estate investment trusts. He has numerous investments, and his share in Equity LifeStyle is perhaps his most valuable asset.
As a student, Sam created a business for affordable housing for college students. He slowly improved his skills and portfolio to establish his first company, Equity Group Investment.
Zell's investment company, Equity International has investments in Argentina and Colombia. This is why Zell is worth $5.8 billion.
John A. Sobrato
Sobrato Organization is a San Francisco-based company that provides real estate and property services to companies like Netflix and Google.
John Sobrato began selling homes in Palo Alto as a teenager, when he went to college. He has worked closely with his family to grow the business.
Sobrato had his son, John Michael Sobrato, take over leadership positions in his empire, but he left to pursue philanthropy together. His wealth is still worth an impressive $5.5 billion.
Neil Bluhm
Neil Bluhm made most of his money from casino properties. He is a big-time shareholder in Midwest Gaming & Entertainment, running casino sites in Las Vegas and the Midwest.
He first worked as a lawyer for a couple of firms and transitioned to playing a role in business by co-founding Walton Street Capital.
He is the owner of Rush Street Interactive, the online casino, and sports betting agency, with $5.2 billion in his wealth making him one of the richest people worldwide.
Edward Roski, Jr.
Edward Roski, Jr. is the President of the real estate company Majestic Realty and handles retail, industrial, and residential properties.
Even though Edward was part of the US Marine Corps before he became a businessman, after his service with Majestic Realty, he joined professional sports teams in order to earn more money.
Through success in the NHL and NBA (National Basketball Association), Roski has amassed a net worth of $5.2 billion.
Jeff Greene
Jeff Greene is a property magnate who made substantial money from condos and apartments, and he has many other buildings as well.
He began his career as a busboy at the Breakers Hotel. During the 2007 and 2008 housing collapse, he made a fortune by purchasing credit default swaps on substandard mortgage-backed bonds.
Greene has not achieved success in his political campaigns, but he flourishes in his business endeavors. His net worth is estimated to be about $5 billion.
Igor Olenicoff
Igor Olenicoff is one of the most prolific real estate investors in recent history, with over six hundred million square feet of office space and close to 12,000 residential properties under his belt.
Before becoming a successful business figure, Olenicoff was a consultant. Later on, he also became an executive. With the funds he rounded up, Igor established Olen Properties.
He has had numerous scandals throughout his professional life. He pleaded guilty to a federal tax felony in 2007 and was forced to pay a $52 million fine. Despite this, he still left with $4.7 billion.
Ted Lerner
One of the oldest real estate tycoons in the US is Ted Lerner, founder of Lerner Enterprises, whose company boasts the largest private land holdings in the National Capital Region. Offices are his main source of revenue.
Ted used weekends to sell houses while he was studying law school. This pushed him to start his own company with borrowed money from his wife. He at first started by selling houses to developers.
Though it has been a success since its inception, Lerner Enterprises experienced a $4.3 billion loss during the COVID-19 pandemic. Luckily for Ted, he still has enough money to support himself.
Sun Hongbin
With an estimated net worth of $9.2 billion, Sun Hongbin secures the eighth position on our list of richest people who made money investing in real estate. More interested in making global investments, Sun Hongbin launched the biggest real estate developer company in China, Sunac China Holdings. He ranks 8th in the list of top real estate billionaires in the world.
Sunac China has an interesting history. It was started after Sun Hongbin lost his job with the famous Lenovo Company. For launching his firm, Sun Hongbin had to take a loan from Lenovo's founder, Liu Chuanzhi. Sun became really successful in his real estate endeavors and soon he listed Sunac with Hong Kong Stock Exchange.
Today, the company develops large to mid-scale building projects and controls the Wanda Group of Hotels. Sunac China Holdings is also investing in several entertainment projects internationally.
David & Simon Reuben
David and Siman Reuben, who are both British brothers, made a fortune with a smart strategy and hard work. Their estimated net worth is somewhere between $18 billion to $16 billion to date.
The Bombay-born brothers own some of the most expensive properties in London. There are only around 200 assets in the company, but they are all bonds and cash.
The brothers invested in metal and carpet business to save money. In the Russian metal market, they made significant profits that the Russians called them as 'metal tsars'. Yet when the Russian metal industry tanked, the brothers decided to start real estate investments in London.
They own many notable properties, including the Millbank Tower, the American Express offices, the John Lewis Partnership Cooperation in Victoria, and the Connaught House.
Neil Bluhm
Bluhm was able to pull off one of his biggest wins in December when he went public with his online casino and sports betting firm. Rush Street Interactive went public via a reverse merger with blank check firm dMY Technology Group.
That negotiation alone bolstered his net worth by over $1 billion.
Bluhm's real estate assets in Los Angeles and Chicago have contributed to their holdings, which are worth $2.4 billion.
Leonard Stern
Stern is an investment banker who functions as the CEO of Hartz Mountain, a commercial real estate company based in New York.
He has over 250 properties in all 5 states, including, Atlanta, Baltimore, and Charlotte.
Hartz Mountain's largely industrial portfolio of warehouses, concentrated in suburban areas, has done well amidst the broader downturn in the real estate market.
Rick Caruso
Rick Caruso is a real estate developer in Los Angeles for some of the country's most successful shopping centers.
Three of the 15 largest malls in America–The Grove, The Americana and Palisades Village–generate top sales per square foot.
With the help of his following, Carlo Caruso opened a retail center in 1992 and has recently expanded into residential, office and hospitality.
Rick Caruso has been considering running for Mayor of Los Angeles for many years. In 2020, he served on both White House and state-level task forces on how to safely reopen the economy after Covid-19.
Ty Warner
Beanie Baby creator Ty Warner built a high-end hotel portfolio that included the Four Seasons in New York.
Ty Inc. still sells a related Beanie Baby toy called a Beanie Boo around the world.
Ty Warner's Las Ventanas al Paraiso resort rents the Ty Warner Mansion for $35,000 a night.
Warner has donated $100 million to the Children's Hunger Fund.
Richard LeFrak & family
When Richard LeFrak became CEO of the LeFrak Organization in 2003, his father Sam had died. The father-son team transformed the business, which started in France in 1883, into one of the largest real estate developers in the New York area.
They own properties such as LeFrak City, a 20-building, 5,000-unit apartment complex in Queens and thousands of acres across from Manhattan to Newport, New Jersey.
LeFrak specializes in affordable apartments near New York City. With their recent expansions into luxury buildings and cities such as Miami, they are hoping to diversify their portfolio.
LeFrak's biggest bet right now is SoLe Mia, a mixed-used development of 184 acres in North Miami. He also owns rent-stabilized apartments in New York and took a loss when state lawmakers made it harder for landlords to raise rents in June 2019.
Donald Sterling
Born to Jewish parents, Donald Sterling became rich by buying abandoned apartment buildings.
In 2014, Sterling was forced out of co-ownership of the Clippers after a tape was released in which he was heard making racist comments toward his then-mistress.
He purchased the Los Angeles Clippers basketball team in 1981 for $12.5 million and sold it in 1989 for $2 billion dollars.
Besides an apartment in L.A.'s Westside and Koreatown, he also owns the Beverly Hills Plaza Hotel. Before he purchased his first apartment in West Hollywood, Sterling was a successful trial lawyer.
Charles Cohen
After buying out his father and uncle, Charles Cohen manages a 12 million-square-foot empire. Most of his wealth comes from high-end offices in New York City and design centers spread throughout several cities.
WeWork leases office space from Cohen Brothers Realty in Manhattan, NY.
He is CEO of luggage company T. Anthony, Harrys of London has been a favorite for its fashion statement since 1913 and Cohen's Savile Row tailor Richard James has made bespoke suits for giants such as Winston Churchill and Elizabeth Taylor.
In 2018, he purchased movie theater company Landmark Theatres and magazine Avenue. He owns or has the rights to a huge number of classic movies.
Jay Paul
Jay Paul, a real estate developer, has a history dating back to the Silicon Valley. He built and leased office space for companies such as Hewlett-Packard, Amazon, and Apple. His privately held company has developed 12 million square feet of office space in Silicon Valley.
181 Fremont is a 70-story tower in San Francisco, which was completed in 2018.
Paul has set a plan to develop 4 million square feet of office space in downtown San Jose, as part of market demand and with plans for new office buildings.
He also owns properties in San Diego, Santa Cruz, Texas, and Austin.
Jerry Speyer
Jerry Speyer, a successful real estate developer in New York City, redeveloped some of the landmarks like Rockefeller Center and the Chrysler Building.
Today, his son Rob holds the CEO title while Jerry is chairman.
Tishman Speyer has developed over 152 million square feet of office space, including skyscrapers in New York, Chicago, Berlin, London, Frankfurt and Paris.
Speyer founded the company in 1978 with his father-in-law, Robert Tishman. The marriage ended in divorce, but the company survived.
Herb Simon
In the late 1960s, Herb Simon and his brother Melvin founded Simon Property Group, which grew from a company to a real estate company with over 400 properties in 20 states.
Simon Property Group is one of the world's largest real estate investment trusts with 233 properties, spread throughout the U.S.
He is chairman emeritus and he has been the CEO of the company for about ten years.
Simon owns the Indiana Pacers, which have an estimated value of $1.5 billion.
Ross Perot, Jr.
Ross Perot Jr. founded real estate development company Hillwood, whose diversified portfolio is estimated to exceed 42 million square feet. His father, late billionaire presidential candidate Ross Perot Sr., let his son borrow against his fortune to start his real estate empire.
Perot Jr.'s Hillwood currently owns 200 million square feet of industrial and residential communities.
Hillwood also built AllianceTexas, which is the largest inland port in America with 61,000 employees and 525 companies. It is designed to optimize transport efficiencies with its deep water classification, state-of-the-art rail network, and conveyor belt to make a fluid movement between manufacture-distribution-marketing.
Hillwood Development is developing Frisco station, a $1.8 billion mixed-use development in Frisco, Texas, slated to open in 2021.
Jeff Sutton
Jeff Sutton, who built a fortune by buying Manhattan storefronts and renting them to brands such as Armani and Prada, first made waves by signing American Girl's first flagship location in Manhattan.
The doll retailer opened the store in 2003, then 15 years later, moved to Rockefeller Plaza.
With renewed confidence in the new space, Sutton negotiated a lease with Nike to relocate, enabling the sports brand to leave its Trump-owned location.
Sutton has over 100 clothing stores in her portfolio, including dozens of stores in Brooklyn and Queens.
Mortimer Zuckerman
REIT chairman Mortimer Zuckerman, who has led Boston Properties for nearly 50 years, abruptly retired in 2016.
Zuckerman is the son of Ukrainian Jewish immigrants who settled in Montreal. In 1970, he founded Boston Properties.
Zuckerman became a U.S. Citizen in 1977 and launched Boston Properties in 1989. The company has since grown to encompass over 50 million square feet in its portfolio.
He sold The New York Daily News in 2017 after 24 years of owning it. He also holds the titles of Editor-In-Chief, Co-Publisher and Owner of U.S.News & World Report.
That's it for this blog Real Estate Heaven Fan, remember to subscribe to our channel and if you feel like we've delivered value please share this blog with ONE person. That's right just one person as a token of your appreciation for the hard work we put into making content that educates and helps you on your mission of building your own fortune.  Remember you can read blog after blog, but it isn't until you actually take action that you'll start to see results. See you soon!
---