Using Affordable Smart Home Technologies
People would have laughed at you if you had told them a decade ago that they could afford to use smart home technologies. The internet has made it easier than ever to know just about anything you want. So with all this content and information available, how did you know which ones to know from and which ones actually work?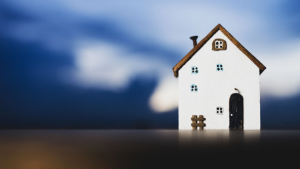 Luckily, you are in Real Estate Heaven and for today's video we will be talking about using affordable smart home technologies. Remember, that while the first step is completing any of this amazing information, the second and possibly more important step is taking action even if it's imperfect action.
A home that uses internet-connected devices to enable remote monitoring and management of systems and appliances, such as lighting and heating, is referred to as a smart home.
Homeowners can control smart devices with smart home technology, also known as home automation or domotics (from the Latin "domus" meaning home), which offers security, comfort, convenience, and energy efficiency. This is frequently done through a smart home app on a smartphone or other networked device. Smart home systems and devices, which are a part of the internet of things (IoT), frequently work together, sharing consumer usage data among themselves and automating actions based on the preferences of the homeowners.
Various smart home technology examples
There is now a smart home alternative for almost every aspect of life where technology has entered the home (lightbulbs, dishwashers, etc.):
Smart TVs can access content through applications, such as on-demand video and music, by connecting to the internet. Additionally, some smart TVs offer gesture or voice recognition.

Smart lighting systems, like Hue from Philips Lighting Holding B.V., can detect when people are in the room and adjust lighting as necessary in addition to being able to be customized and controlled remotely. Additionally, intelligent bulbs can control themselves based on the amount of daylight.

With built-in Wi-Fi, smart thermostats like Nest from Nest Labs Inc. enable users to remotely monitor, schedule, and control home temperatures. In order to give residents the greatest comfort and effectiveness, these devices also learn the behaviors of the homeowners and automatically modify settings. Among other things, smart thermostats can report energy usage and remind users to change their filters.

Users can allow or deny access to visitors using smart locks and garage-door openers. Smart locks can also recognize when a resident is nearby and automatically unlock the doors.

Residents can keep an eye on their homes while they are away or on vacation thanks to smart security cameras. Smart motion sensors can distinguish between residents, guests, animals, and intruders, and they can alert authorities if any suspicious activity is seen.

Connected feeders enable automated pet care. Using connected timers, you can water your lawn and indoor plants.

There are many different types of kitchen appliances available, such as smart coffee makers that can brew a fresh cup automatically at a set time, smart refrigerators that keep track of expiration dates, create shopping lists, or even create recipes using ingredients already in the house, toasters and slower cookers, and washing machines and dryers for the laundry room.

For instance, household system monitors may detect an electric surge and shut off appliances, or they may detect a water failure or frozen pipes and shut off the water so the basement doesn't flood.
Pros and cons of smart homes
Home automation offers homeowners peace of mind by enabling them to monitor their properties from a distance, preventing risks like a forgotten coffee maker left on or an unlocked front door.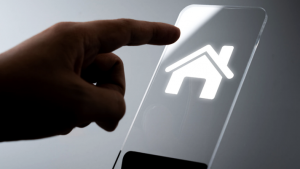 The elderly can also benefit from domotics because they provide monitoring that enables seniors to stay at home comfortably and safely rather than having to move into a nursing home or need round-the-clock home care.
User preferences can be accommodated in smart homes for convenience. Users can set their garage door to open, lights to turn on, fireplace to light, and favorite music to play when they arrive, for instance.
Additionally, consumers can increase efficiency with home automation. A smart home system can learn habits and ensure that the house is cooled down by the time homeowners get home from work instead of turning on the air conditioning throughout the day. Appliances follow the same rules. The lawn will only be watered when necessary and with the precise amount of water required with a smart irrigation system. Home automation makes it possible to use energy, water, and other resources more effectively, which helps consumers save both money and natural resources.
However, because of their technical nature, home automation systems have had a difficult time entering the mainstream. The perceived complexity of smart homes is a disadvantage; some people struggle with technology or give up on it after experiencing even a minor annoyance. For users of all types and technical levels, smart home manufacturers and alliances are focusing on simplifying the user interface and enhancing the user experience.
Devices must be compatible with one another and use the same protocol, or at least complementary ones, for home automation systems to be truly effective. Home automation does not yet have a gold standard because it is a young industry. However, in order to guarantee interoperability and a seamless user experience, standard alliances are working with manufacturers and protocols.
Smart home security is a significant issue as well. According to a 2016 NTT Data Corp. report, 80% of American consumers are worried about the security of the data from their smart homes. Hackers who gain access to a smart device may be able to disable the lights, alarms, and doors, rendering a house vulnerable to intrusion. Additionally, hackers might gain access to the homeowner's network, which could result in worse attacks or data theft. Using poorly protected cameras, DVRs, and routers as entry points, the Mirai IoT botnet was able to bring down portions of the internet in October 2016 through a series of distributed denial-of-service (DDoS) attacks.
Numerous opponents of smart homes are concerned about data privacy in addition to home security. 73 percent of consumers expressed concern in the NTT Data survey about the privacy of the information shared by their smart home devices. While manufacturers of smart home platforms and devices may gather consumer data to better tailor their products or provide customers with new and improved services, manufacturers looking to attract new customers must prioritize trust and transparency.
How do smart homes operate and how are they implemented?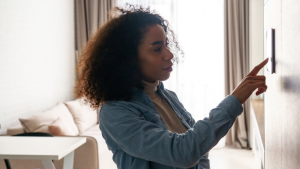 Many newly constructed homes have the necessary infrastructure for smart homes. On the other hand, smart technologies can be retrofitted into older homes. While X10 or Insteon are still used by many smart home systems, Bluetooth and Wi-Fi have become more common
Two of the most popular home automation communication protocols in use today are Zigbee and Z-Wave. Both connect smart home systems using mesh network technologies and short-range, low-power radio signals. Despite targeting the same smart home applications, Z-Wave has a range of 30 meters compared to Zigbee's 10 meters, and Zigbee is frequently thought of as being more complex. While Z-Wave chips are only offered by Sigma Designs, Zigbee chips are available from numerous companies.
A smart home is a cohesive network of connected smart appliances and devices rather than a collection of standalone smart appliances and devices. A central home automation controller, frequently referred to as a smart home hub, manages all devices. A hardware component known as the smart home hub serves as the system's focal point and has the ability to sense, process data, and wirelessly communicate. It combines all of the various apps into a single smart home app that homeowners can control from a distance. Amazon Echo, Google Home, Insteon Hub Pro, Samsung SmartThings, and Wink Hub are a few examples of smart home hubs.
With the help of a Raspberry Pi or another prototyping board, for instance, some smart home systems can be built from the ground up. Others are available as bundled smart home kits, also referred to as smart home platforms, that include all the components required to launch a home automation project.
Events in straightforward smart home scenarios can be timed or triggered. Timed events are dependent on a clock, such as closing the blinds at 6:00 p.m., whereas triggered events are dependent on actions made by the automated system, such as turning on the smart lights and the smart lock when the owner's smartphone is close to the door.
Artificial intelligence (AI) and machine learning are becoming more and more common in smart home systems, enabling home automation applications to adapt to their environments. For instance, voice-activated systems like Amazon Echo or Google Home have virtual assistants that can learn about and tailor the smart home to the preferences and routines of the users.
Smart structures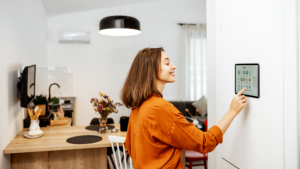 While every smart building is also a smart home, the reverse is also true. Buildings of all types and sizes, including offices, skyscrapers, apartment complexes, and multi-tenant homes and offices, are implementing IoT technologies to increase building efficiency, lower energy costs and environmental impact, ensure security, and enhance occupant satisfaction. Lighting, energy, heating, and air conditioning, as well as security and building access systems, are among the smart technologies that are used in smart buildings.
For instance, a smart building can save money on energy by using sensors to determine how many people are present in a given space. If sensors detect that a conference room is full, the air conditioner may automatically turn on, and if everyone has left the office for the day, the heat may be reduced.
The smart grid can be accessed by smart buildings as well. Here, the electric grid and the parts of smart buildings can converse and listen to one another. Using this technology, power outages can be handled more quickly, maintenance can be handled proactively, and energy distribution can be managed more effectively.
In addition to these advantages, smart buildings can offer building managers and owners the advantage of preventive maintenance. For instance, janitors can restock the toiletries when usage sensors detect that the soap or paper towel dispensers are running low. Alternately, maintenance and failures of the building's lighting, elevator, and refrigeration systems can be anticipated.
The history of smart homes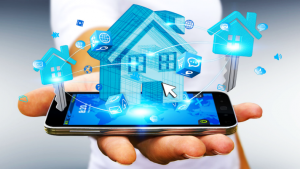 The smart home, which was once just a sci-fi fantasy à la The Jetsons, became a reality with the 1975 release of X10, a communication protocol for home automation. X10 uses the existing electrical wiring in a home to transmit 120 kHz radio frequency (RF) bursts of digital data to programmable switches or outlets. These signals deliver instructions to related devices, directing when and how they operate. For instance, a transmitter could instruct a device to turn on at a specific time by sending a signal along the electrical wiring of the house.
However, X10 was not always completely dependable because electrical wiring isn't made to be free of radio-band "noise." Signals would be lost and, in some cases, wouldn't cross circuits that had different polarity wiring, which is common in the US when a 220-volt service is split into two 100-volt feeds. Furthermore, X10 was developed as a one-way technology at first, so although smart devices can receive commands, they cannot transmit information back to a central network. Two-way X10 devices did, however, eventually become available, albeit at a higher price.
Insteon, a company that specializes in home automation, introduced technology that combines wireless signals with electric wiring in 2005. Zigbee and Z-Wave have since been developed to address the issues that X10 was prone to, but X10 is still a widely used communication protocol today.
Nest Labs was established in 2010 and unveiled the Nest Learning Thermostat as its first smart product in 2011. The business also produced intelligent security cameras and CO/smoke detectors. It was acquired by Google in 2015, and the following year it was made a division of Alphabet Inc.
In order to finance its smart home system, SmartThings Inc. launched a Kickstarter campaign in 2012 and raised $1.2 million. The company entered the market in August 2013 after receiving additional funding, and Samsung bought it in 2014.
Recent releases of smart home products and domotics platforms by companies like Amazon, Apple, and Google include Amazon Echo, Apple HomeKit, and Google Home.
The modern secret to the smart home is affordability.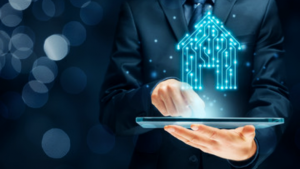 According to recent Parks Associates research, price is now the primary factor buyers of smart home devices are taking into account. In comparison to product reviews (31 percent) and data privacy/security efforts, affordability is ranked as the third most important factor by more than half (51 percent) of those planning to make a purchase (29 percent ). Concerns about affordability are now the main factor preventing non-owners and non-intenders from making purchases. The segment Parks Associates labels as the smart home disengaged believes that smart home gadgets are too expensive (44 percent).
The importance of affordability is increasing, which is a good development for the entire smart home market. This shift suggests that the market has largely reached early adopters and tech enthusiasts and is now focusing on a larger segment of mainstream consumers. This shift was made clear by the introduction of numerous products at lower price points at CES 2020 in Las Vegas. Nowadays, consumers can find items like HD networked cameras with two-way audio for as little as $20 (Wyze Cam) or battery-operated video doorbells with a chime for as little as $80. (Toucan). The low-cost video doorbell from Toucan has a 180-degree field of view.
Additionally, well-known market leaders like Nest have launched second-generation products at a significantly lower price point than first-generation models like the Nest Learning Thermostat ($249), such as the Nest Thermostat E ($139 at Walmart). The tech behemoths Amazon and Google have even frequently reduced a variety of smart speaker devices to as little as $20, providing customers with a cheap way to control their smart homes.
The recent push to cut costs may have contributed to the increase in smart home device adoption in 2019. A minimum of one smart home device was owned by 29 percent of US broadband households at the end of 2019, up from 24 percent at the end of 2018. After experiencing flat growth from 2017 to 2018, adoption of smart homes increased overall by 21% during this time frame.
In order to appeal to mainstream consumers, market players will do well to emphasize affordability going forward. The affordability of the smart home has become increasingly important as the industry moves beyond early adopters and tech enthusiasts.
Smart home technology does not have to be expensive. Wyze Labs is setting the standard for the sector by creating products that are affordable for any renter or homeowner on a tight budget. We had the good fortune to test out their new line of products, and we were impressed with how well they held up against more expensive alternatives you might discover in a retail setting.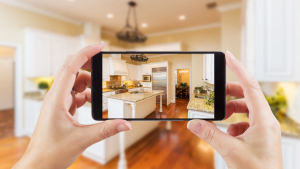 In the beginning, the business sold a low-cost, indoor-only camera that was excellent for keeping an eye on property or pets. It could only record for 12 seconds to a micro-SD card and then to the cloud. Users came up with a variety of uses for the camera, and it quickly rose to the top of the bestseller list.
There was no rating for using it outdoors, but many people wanted to. Later, Wyze updated the most popular Wyze Cam to version three and added a specific battery-powered outdoor camera. It now has free 14-day cloud storage for only $30 and can be used indoors or outdoors.
For less than the cost of either a typical smart lock or doorbell, homeowners can upgrade their front door's hardware with a video doorbell with chime for only $50 and a new interior deadbolt for $100. It offers as many features as or more than competitors, and the quality is comparable to that of more expensive devices.
A security service that starts at just $5 per month has just been added to Wyze. The core kit is a good place to start for homeowners, who can then add more keypads, entry sensors, motion sensors, and cameras as needed. The average cost to outfit a house is about $200.
But they didn't stop there. For only $250, Wyze now sells a robot vacuum with sophisticated lidar navigation, a feature that is essential. It can easily hold its own against vacuums that cost two times as much. Wyze also produces inexpensive color light bulbs and light strips that can compete with Philips Hue and a thermostat that is comparable in price to the entry-level Nest thermostat.
The best thing about these products is that they are all controlled through a single app and by your preferred voice assistant without the need for a home hub or any other extra hardware.
A house's appearance is frequently used to assess it. But guess what? Now, you can evaluate it based on its IQ. More homes are incorporating the much-discussed smart home technology, such as smart thermostats, smart lighting, and app-controlled security systems. Smart home technology can improve your coolness and make houses simpler to manage. It might also come with benefits if you ever decide to sell your house.
Home buyers are more and more interested in a seller's Wi-Fi signal and connectivity in addition to that amazing kitchen upgrade. This is a concern for everyone, not just the tech crowd. More people are adding devices to their homes as smart home technology becomes more accessible and user-friendly. According to NPD Connected Intelligence, 50% of American consumers owned at least one smart home device in 2021, up from 35% in 2020. As homeowners look to cut costs, feel safer at home, and add convenience, the number is anticipated to rise.
Smart Technology Matters in a Home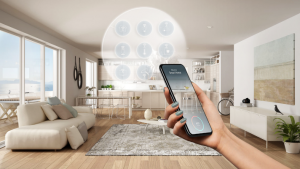 A potential home buyer is now here. As they enter, the lighting is automatically activated by motion. For maximum comfort, a smart thermostat modifies the temperature. The house is being kept clean by the clever robot vacuum. Depending on the position of the sun, the window blinds change. They are also being informed of the features of the house by the smart speaker.
According to a 2020 REALTOR.com study, four in ten Americans have purchased a smart home device since the COVID-19 outbreak and are more interested in smart home technology. According to Angel Piontek, an associate broker with Coldwell Banker Elite in Fredericksburg, Virginia, "the pandemic has advanced smart home technology." "Our relationship with our homes is evolving. Buyers will eventually come to expect it."
According to Z-Wave Alliance's 2020 report on smart technology, most real estate professionals polled agreed that smart home technology can aid in home marketing. In fact, some real estate agents are already touting the advantages of smart homes. There may be more symbols on 3D virtual tours of real estate listings that indicate the presence of smart technology. Or, laminated placards that point to specific devices and describe what they do might be used during in-person real estate showings.
Costs of smart home technology and consumer preferences
According to a REALTOR.com study, consumers between the ages of 18 and 34 said they would pay more for homes with home theaters, smart speakers throughout, and connected kitchens. Consumers in the 25–54 age range said they would spend more money on solar roof tiles and home battery packs. Solar roof tiles, smart doorbells, and security systems would also be worthwhile investments for people 55 and older.
It is more difficult to demonstrate that smart technology can increase revenue from a home sale. According to anecdotal evidence, real estate experts think so: "If a home is marketed correctly and has smart home technology, it can sell for top dollar," says Kristin Triolo, a broker associate with RE/MAX Platinum Realty in Sarasota, Florida.
With more expensive systems, completely automating a house could cost up to $15,000. But Christopher Matos Rogers, an associate broker with Atlanta's Palmerhouse Properties of the Matos Rogers Group, claims that an appraiser would take such a system into account at resale.
Using Smart Technology to Increase Marketability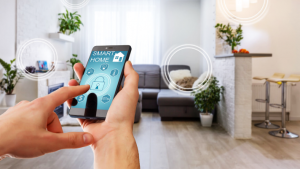 Some real estate experts might advise installing smart home technology if you don't already have it before listing your house. Technology-savvy generations might anticipate it. And such systems might appeal to older adults, especially voice-controlled ones that support aging in place.
An older home can easily be updated with smart home technology to make it competitive with newer ones. After all, a lot of home builders provide packages for smart homes that include video security systems, app-controlled garage doors, smart lighting, smart door locks, and smart thermostats for brand-new homes.
Investments in smart home technology can cost as little as $20 for new smart light bulbs or as much as $20,000 or more for automated solutions that link all of the systems in a home in one hub. To increase the appeal of your home's smart technology, you can outfit it for $1,500 with a variety of systems, including a smart speaker, smart lighting, and a smart thermostat. According to FixR.com, homeowners could automate their lights, door locks, thermostat, and three rooms' worth of smart plugs, speakers, and hubs for about $5,500.
The majority of the time, real estate professionals will want to highlight your devices, no matter how extensive they are. Although buyers may not be very knowledgeable about smart home technology, Triolo asserts that they are aware of and understand energy and money savings. For instance, according to a Nest consumer survey, its smart thermostat could cut a home's heating and cooling costs by 10% and 15%, respectively.
What Else Enhances Smart Technology Appeal?
According to Piotnek, bigger brand names in smart home technology, such as Nest, Ring, and Lutron, have immediate name recognition when selling.
Usefulness is also important. According to Ellis Gardner, a broker with Keller Williams Realty in Chattanooga, Tennessee, opening multiple apps on a phone to manage various aspects of a home can feel cumbersome. But it's convenient to be able to say, "Hey, Google, turn on my lights!"
You'll need to be clear about what stays and what goes with the home sale when it comes to smart devices. Some of these devices on what is regarded as personal property are in a gray area, according to Piontek. For instance, your smart home hub could be a digital assistant like Alexa or Google Home. However, sellers might decide to take these personal belongings with them when they move. Therefore, it's crucial to put everything in writing so that there are no ambiguities at the end of a transaction."
Three Strategies to Prevent Misunderstandings About Smart Home Technology
Using these three pointers, you can prevent misunderstandings about smart home technology:
Find a real estate agent who understands cutting-edge technology. They have a tendency to be astute marketers of smart technology and can help sellers avoid snags when selling a smart home. The Residential Real Estate Council, a provider of real estate education and networking, has provided smart home certification and additional training to some real estate professionals, including Triolo and Gardner.

Choose which of your smart home technology's gadgets or apps are personal versus real property. Items that are hardwired or permanently attached to a home typically stay, including your smart thermostat and any switches and mounts. Replace your Nest thermostat or Ring doorbell before listing it if you intend to take them. The buyer might assume that anything present in the home during a showing will stay there.

Flip the virtual keys over. According to Gardner, handing over the passwords in a smart home on closing day is equivalent to handing over the front door key. To remove any personal data, reset all transferable technology to its default settings. Give the new owners instructions or website addresses so they can set up new accounts.

The convenience, security, and safety of homes are all being enhanced by smart home technology. According to Piontek, homeowners should also think about the advantages they'll have if they ever decide to sell. High home appeal may make your house stand out to buyers, similar to curb appeal.
No matter which benefit is most important to you, if you've been hesitant to make your home smart, you'll be surprised by all the extra benefits you'll discover along the way.
We compiled a list of the top advantages of smart home technology to help you make your choice.
Time-saving
For busy people who have lengthy "to-do" lists at work, a smart home system is practical. You can maintain focus on your professional life and manage your home while you're at work or even on the road if you have a smart home automated system in place.
Home Helper
Your household chores can be greatly aided by home helpers. They can remind you of important dates and notes or help you make shopping lists. Smart home appliances offer countless opportunities to operate appliances simply with your voice, allowing you to unwind and slow down while managing everything from your smartphone.
Kitchen Helper
We spend a lot of time cooking or socializing with friends in the kitchen. Why shouldn't your kitchen be as intelligent as the rest of your home?
Imagine waking up to the delicious aroma of coffee filling your house. Seems overly futuristic? You can brew coffee from your phone using a number of devices that integrate Google Assistant and Amazon Alexa.
Health Monitoring
Unable to consult a doctor to discuss your health and make sure you're maintaining it? Smart health trackers can be used. They also pay attention to your activity level, heart rate, and sleeping habits in addition to calories. You can adjust your routine and manage your stress better after having your smart home system analyze you.
Did you know that light affects the hormones that support restful sleep and lower stress? Smart lights will change based on the time of day and always provide the best lighting for your mood and health.
Keeping your home and family safe
Live feeds from the security cameras can be viewed on your smartphone or other web-enabled devices when the cameras are integrated with your home automation system.
While you are in another room, you can still make sure that your kids are safe. To keep an eye on the kids even when you are away, you can install cameras in the nursery or children's room. For your children's safety, you can also integrate baby monitors and alarms into your smart home system. To avoid any accidents, for example, integrating a Smart Pool Alarm will alert you to any dropped objects.
Device Interconnection
You can access the majority of the smart home features you gain by integrating your devices via your smartphone. This suggests that you can control your home's various systems from a distance. Many other features are available, including the ability to control the AC, change the music, view security camera footage, and schedule lights. If you hear a noise without leaving your bedroom, you can turn on the air conditioner just before you get home or turn on the backyard lights. The interconnectedness of smart homes makes it possible for all of these features to exist.
Connectivity and security
One of the most successful applications of smart home technology is safety. With the help of gadgets like wireless cameras, alarm systems, motion detectors, Wi-Fi enabled door locks, and video doorbells, you can easily and intelligently protect your house or property. When traveling, everyone could benefit from having a little mental tranquility. A smart home system may be useful if you are constantly worried about potential leaks in your home's plumbing or whether you properly locked the doors or closed the garage when you left. You can keep an eye on your home at any time, from anywhere, thanks to smart home technology. Water sensors, for instance, can find unwanted water and alert you right away.
Energy Savings
One of the biggest benefits of smart homes is that they enable energy-efficient appliance operation. Whether we're talking about induction cooktop stoves that only begin to heat when a metal pan is placed on top of them or LED lights that replace low-efficiency bulbs. You can control the interior temperature with smart blinds to prevent overusing the air conditioning or heating.
Water consumption is another resource that smart home technology can help conserve, in addition to electricity. Smart faucets, pool pumps, rainwater harvesting systems, sprinkler systems, and retention tanks are just a few of the features of the smart home system that can help you conserve water.
Money-saving
It's a wise choice to live a more environmentally responsible and efficient lifestyle. To save money is one of the primary motivations for upgrading to a smart home, though. Timer and usage monitors are two control features that have changed how you use energy across your devices. Devices will only operate when users are present thanks to motion sensors.
Using a smart thermostat to regulate and schedule the temperature of your house room by room can help you save money. Even smart toilets that use a small amount of water, like the Toto Washlet, or showerheads, like The Rua, can be used without sacrificing power. You won't ever have to worry about leaving the air conditioner on all day while you're gone if your house is smart. Unoccupied rooms never require heating or cooling. Your smart home becomes more effective as you add more devices, which helps you save money.
A recent EPA (Environment Protection Agency) study on smart home technology found that homeowners who use thermostats alone claim to save between 10 and 30 percent on their energy costs.
That's it for this video Real Estate Heaven Fan, remember to subscribe to our channel and if you feel like we've delivered value please share this video with ONE person. That's right just one person as a token of your appreciation for the hard work we put into making content that educates and helps you on your mission of building your own fortune.  Remember you can watch video after video, but it isn't until you actually take action that you'll start to see results.  See you soon!
---