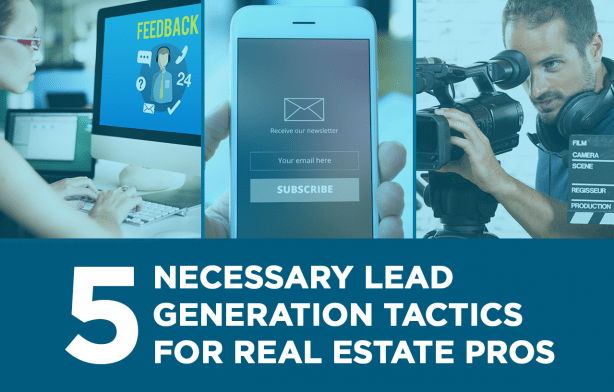 With new mobile marketing apps, tech gadgets, and digital platforms geared toward agents and brokers released seemingly daily, it's understandable you may be overwhelmed with deciding what you should incorporate into your real estate lead generation strategy.
Add hundreds of different marketing options you can conduct to attract, capture, nurture, and close your prospects to this increasingly growing list of widgets and tools, and you can go from overwhelmed to completely overcome with stress and confusion.
This is why it's important to take a step back from your real estate marketing strategy time to time to remember the core, must-implement lead gen tactics to focus on regularly.
Check out these 5 crucial marketing activities you need to take advantage of to earn many targeted home buyer and seller leads with your digital presence.
1)  Video: Create brand, community, review, and listing videos.
When three-quarters of brands see higher return on investment with their video marketing strategies than any other tactic, you know it's a viable resource for your own business. People love visuals, especially in real estate searches. While having a ton of great infographics and SlideShares on your website is one way to attract attention and keep visitors perusing your pages, it's really video that's the essential marketing technique that's generating significant lead totals for agents and brokers across the country these days.
Examples of High-Quality Real Estate Video Strategies
Leigh Brown
Personality, authenticity, realness: These are the traits buyers and sellers look for in agents they want to work with — and few possess them to a greater degree than RE/MAX Executive Realty CEO Leigh Brown. Brown's lengthy list of enlightening YouTube videos expertly blend humor, passion, and knowledge, all of which have helped her build quite the business for herself over the years. Even though many of her videos are geared toward helping other agents, the clips nonetheless help humanize her, which, in turn, helps those in her market see how relatable she is — something most every seller and buyer wants in their representation.
John White
Palm Springs Realtor John R. White, a Placester customer, loves to exhibit the beauty of his warm-weather market through videos that feature the gorgeous palm trees and pleasant climate of the SoCal community. White has covered the full array of videos that appeal to his high-end audience: from intimate listing tours during which he speaks candidly about what makes the properties so special to odes to the area in which he waxes poetic about the local lifestyle his home buyer leads can have if they purchase residences there. You'll find it hard to not want to buy a home in Palm Springs after watching one of White's many high-production-value videos.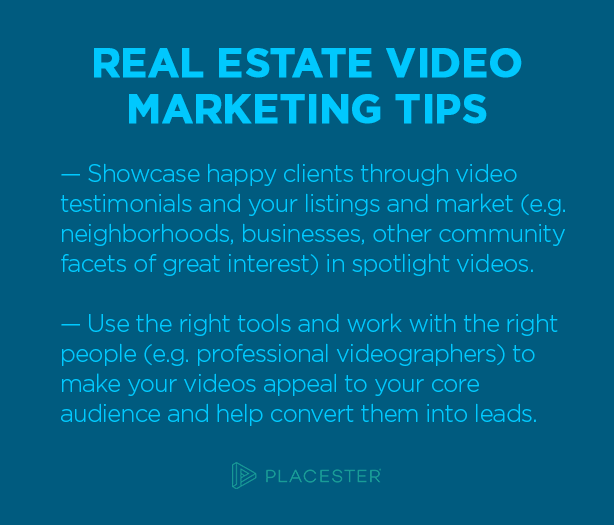 Also, whereas Logan develops numerous testimonial videos from his customers, the Pierson team has created an expertly branded, 3-minute clip (above) featuring several of its clients from over the years. Each one tells their own story about how they came across the brand and in what specific ways the firm aided their housing-related ambitions. Another video on the site also features previous clients along with actual agency members explaining Pierson's value proposition — an astute move that helps position them as a friendly, knowledgeable, trustworthy real estate resource.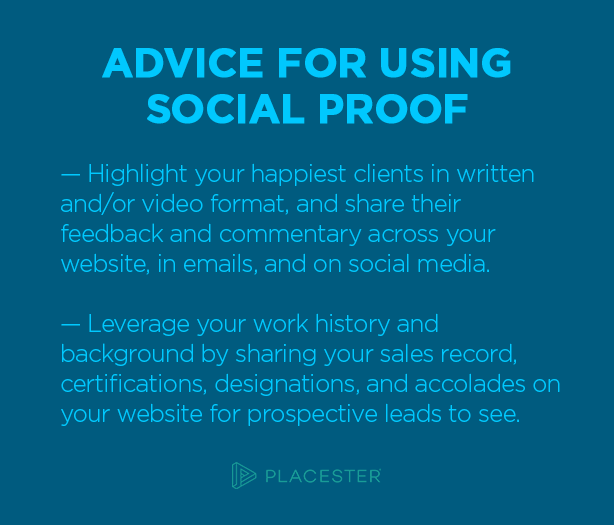 3)  Lead Capture Forms: Leverage your real estate agent website.
The digital transition for home searchers and sellers looking for the right representation is most definitely real. A half-century ago, 40% of buyers started their home search with newspapers. Today, 55% of buyers start their search online.
Assuming you routinely update your real estate website with fresh, unique, SEO-optimized educational content featuring pertinent, local-market info your audience searches often, it can become one of your best (if not the best) lead-generating resource for your business. Once you get people to your site, it's important to give them ample options to provide their contact information, either by gating valuable content or through a form to contact you.
Examples of Effective Real Estate Website Lead Capture Forms
Matthew Maier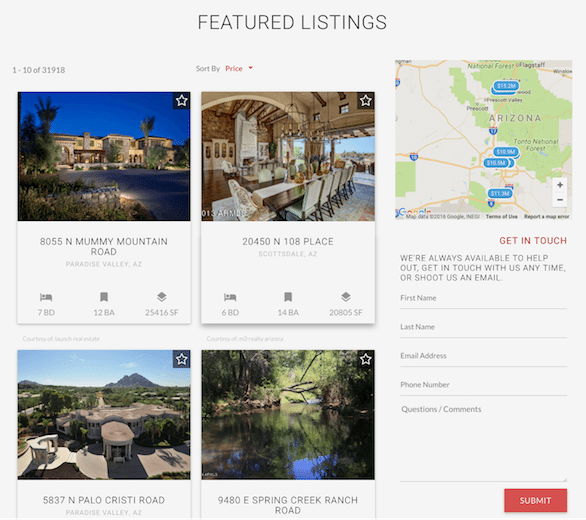 Whether it's next to your blog posts featuring home buying advice, below your area pages highlighting local neighborhoods, or — in the case of Keller Williams Realtor (and Placester customer) Matthew Maier's real estate agent website — beside featured listings from your housing market, implementing lead capture forms site-wide is the premier, nearly effortless means of capturing new real estate leads.
A simple tagline like "We're Always Available to Help …" can be all it takes to convince your website visitors to get in touch with you to learn more about your agent services and even set up a time to meet in person for an initial evaluation and consultation. The key is providing plenty of value across your site in the form of regularly posted listing previews and content (like ebooks, dedicated resource pages, blog articles, community pages, testimonials, etc.) and ensuring each form has a distinct purpose behind it. The aforementioned consultations are always a plus, though you can also tempt visitors to fill out forms to get gated, premium content, like local housing data reports, or receive a free comparative market analysis for sellers.
Shay Hata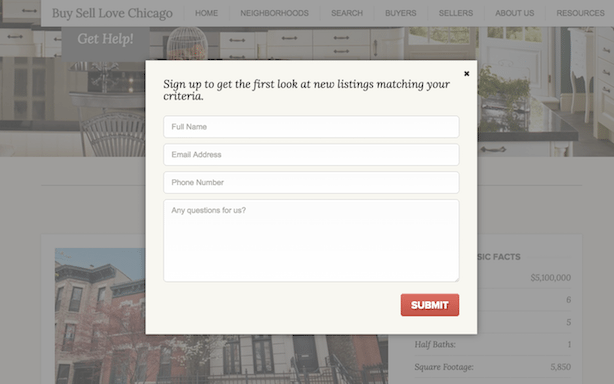 Chicago Realtor Shay Hata also makes the most of her Placester website by taking advantage of our sites' advanced lead capture capabilities, which allow agents to have a lead capture form instantly pop up the moment a visitor lands on the site. Sure, not every visitor is going to want to share their contact information right off the bat — many may want to learn more about you, browse the listings on your site, consume your content, and repeat this process a half-dozen times over before shelling out their name and email address. But this functionality can also present a more aggressive way of asking for information that may get users to fill it out who otherwise wouldn't think to.
And being a bit aggressive with lead capture can lead to big conversions in terms of turning visitors into legitimate leads. As Hata notes in this Placester blog post, it's all about the content, so as long as you make visiting your IDX site worthwhile to your audience like Hata does (and has done for years), the likelihood of getting more leads from these forms can increase dramatically.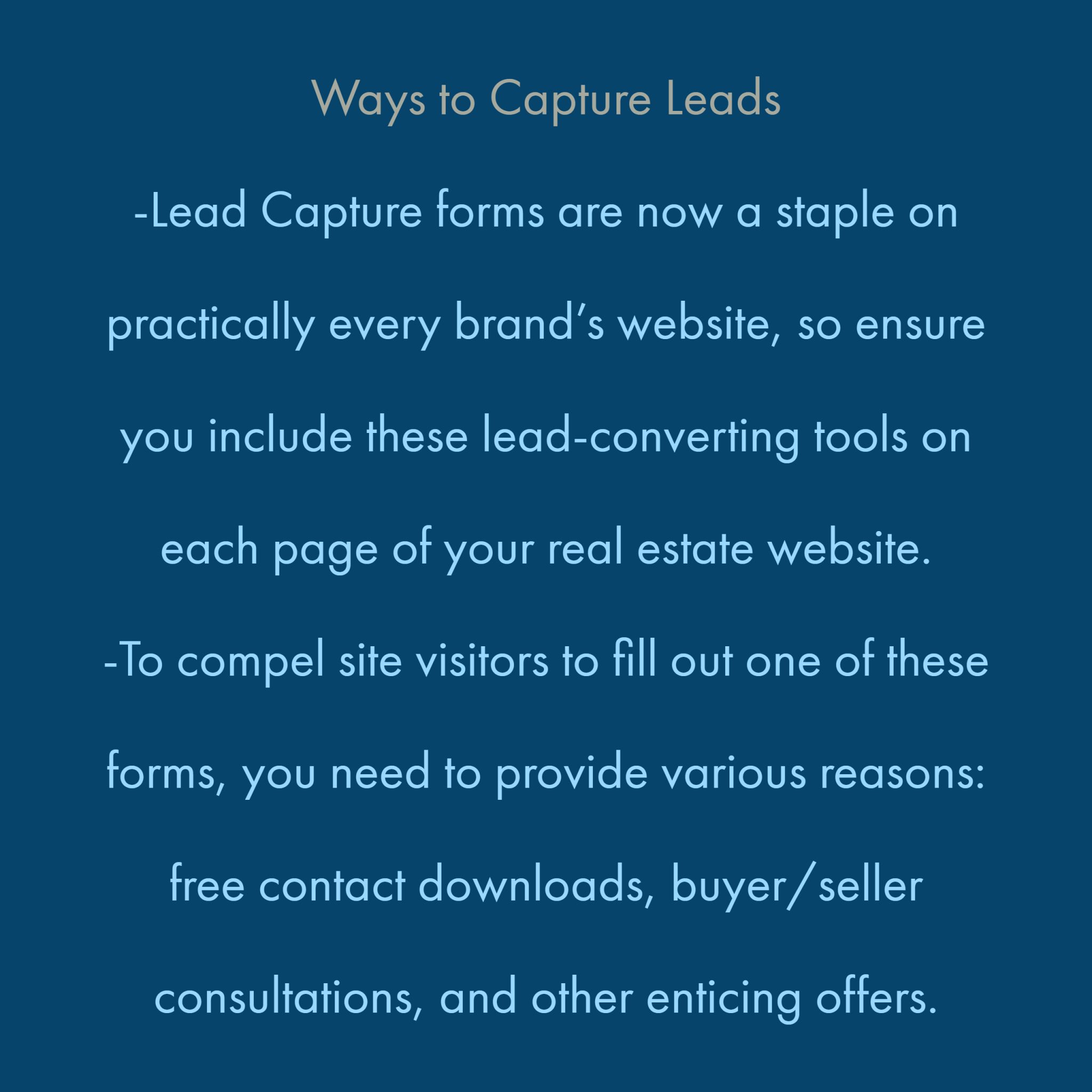 4)  Email Segmentation: Add contacts to relevant email marketing campaigns.
Most of the people who receive your newsletters, digests, and other promotional emails are already likely leads you track and organize in your real estate lead management software. What some agents don't realize, though, is not every lead is created equal. There's the obvious buyer vs. seller dynamic. However, there are plenty of other lead characteristics that distinguish each one from another.

Your mission, should you choose to accept it (hint: You'll want to accept it) is to bucket your prospects into distinct lists so you can send different types of email to each. It's through this intricate segmentation that you'll then truly reap the benefits from your email campaigns (not to mention prevent you from blasting emails to leads who have long been cold and are no longer worth pursuing).
An Example of a Premier Email Newsletter for Real Estate Leads
Smith & Berg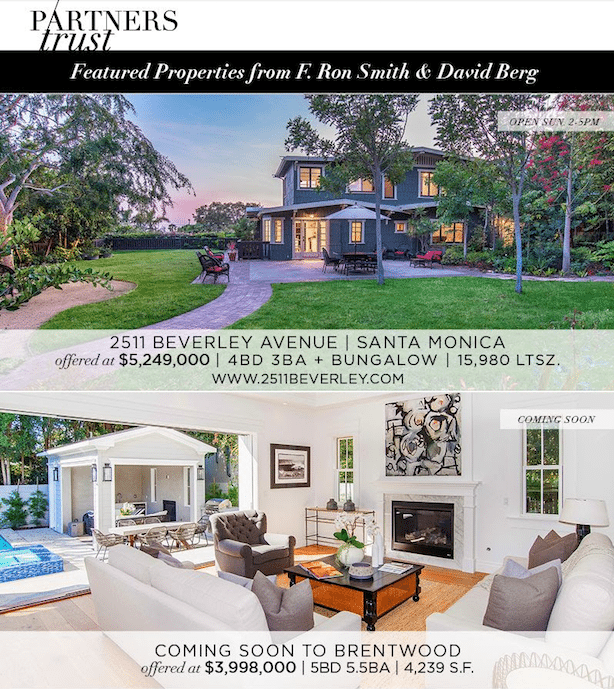 Working in the high-end California real estate market, the Smith & Berg team at Partners Trust sends appropriate emails newsletters to its contact database. Sure, a number of these contacts are likely already leads, but what sending consistent, strong emails like this does is help them distinguish weak leads from strong leads. In the marketing sphere, these strong leads are deemed sales-qualified leads (SQLs), meaning they're more likely to be converted into customers and, thus, deserve more attention with one's real estate marketing strategy.
The key to pinpointing these SQLs is to be diligent and persistent in sending emails to your leads database. As we've noted on the Academy before, inbound marketing is the long game, but if you stick with it with email campaigns that continually provide a consistent, high-quality experience each and every time, you greatly enhance your ability to separate the not-gonna-convert-anytime-soon leads from the I-gotta-start-nurturing-them-more leads.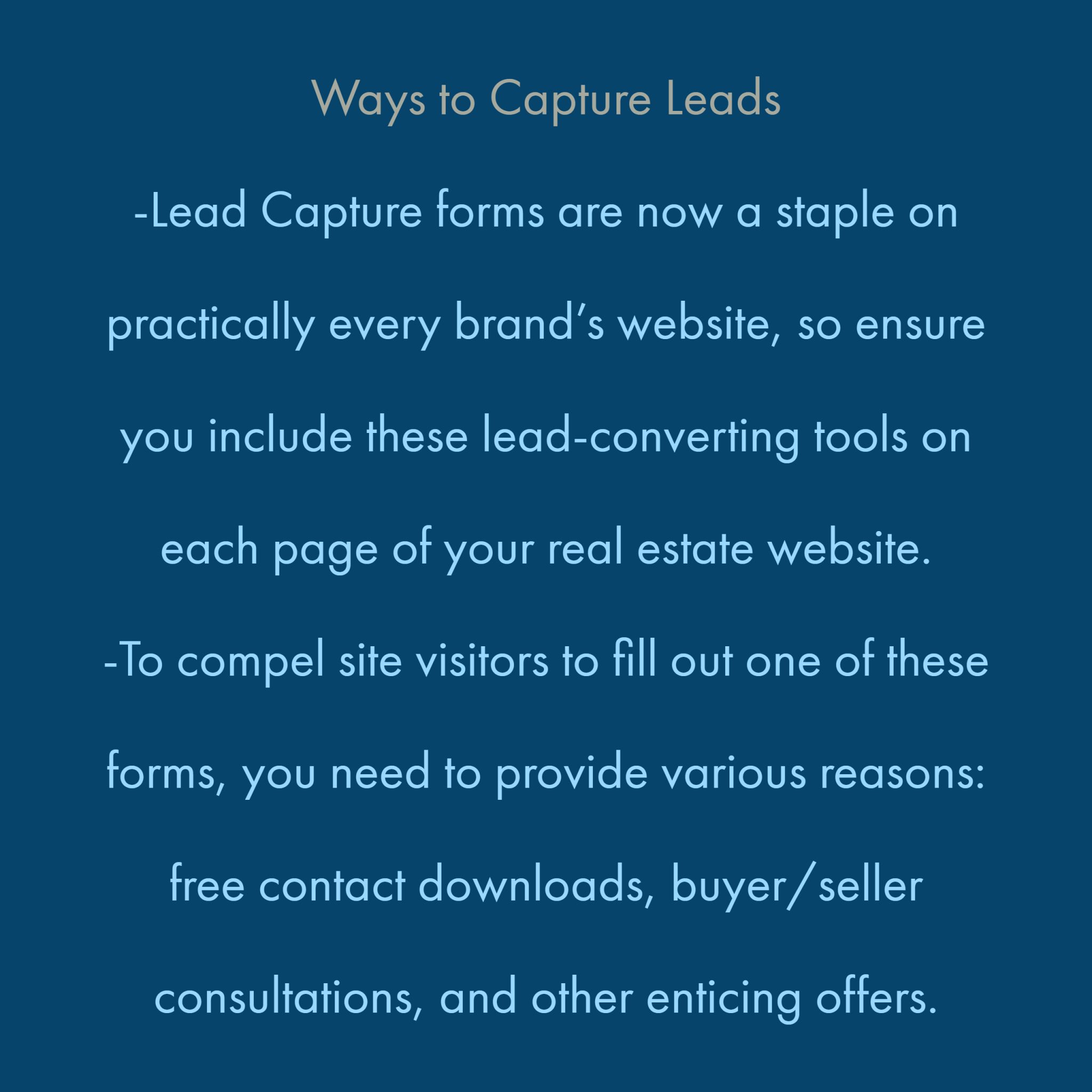 5)  Facebook: Enhance your organic presence and use paid ads.
The social media landscape has changed dramatically since its inception and continues to change at a rapid pace. The one constant over the past decade-plus, though, has been Facebook. The social giant may modify the News Feed and Page layout from time to time and add new features like the news crawler and enhanced search. Arguably the biggest updates Facebook has made in recent years relate to its advertising platform.
It has never been easier or more effective to target a myriad of different ad types to your brand's core demographic through Facebook. Case in point: 94% of marketers say they use Facebook in their marketing plans, with 66% of this group saying the channel is very effective for them. It's no longer a place to post just organic content. It's now a practical and worthwhile place to invest your advertising dollars and earn new, workable buyer and seller leads.
While advertising is a premier opportunity for you on Facebook, don't forget you can still secure leads without spending a dime too. With some savvy optimization techniques, consistent engagement, and regular status updates featuring photos and videos of your listings, market, and clients, you can generate more interest in your brand.
Several dozen reviews with a 5-star rating average, a stellar cover photo that doubles as social proof, and countless status updates that provide info on the brand, new and sold listings, and the community make broker Renee Hillman's Facebook Business Page an undeniable success. Any online locale where you plant your flag and build upon your digital foundation — whether it's your site, Facebook, another social network, or a separate blog — requires equal amounts of effort. Hillman clearly understands this mindset, as she treats her Facebook presence just like she does her Placester real estate website.
If Hillman were to set up a paid campaign in her Facebook account, guiding her audience to the same site pages she promotes via her organic posts would be wise. Listing pages, in particular, are a wise option, so long as you narrow in on your audience accordingly using Facebook's myriad targeting options, like age, gender, job, interests, location, and even connections (why not share ads with Friends of Friends?).
All in all, Facebook continues to evolve, but it's beyond clear it will remain the King of Social Media Marketing for quite some time. Twitter, Instagram, and Pinterest are the runner-ups and are also beginning to offer some viable ad opportunities. Given their infancy with their advertising platforms, though, focus mainly on Facebook for now by experimenting with different ad types (video, slideshow, and traditional display) and mixing up your targeting to gradually fine-tune your ad campaigns and get more leads to your site.
---
---