Summer Marketing Ideas for Real Estate Agents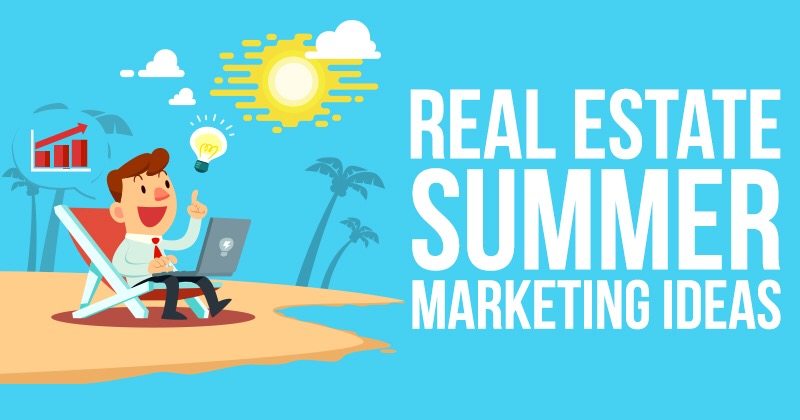 ---
The real estate market heats up in the summer. In 2016, the National Association of Realtors reported that a whopping 40 percent of home sales took place in the summer months.
These need to be your biggest months of the year.
Through the start of this summer, it seems like the trend will continue.
Schools out so parents are more open to moving over the summer. It's a great time to expand your referral business.
Here are some summer marketing ideas. Other agents will probably have more business and therefore a bigger budget for marketing.
You want to keep up with them. A lot goes on in the community, and there a lot of events happening.
There are more opportunities to connect with past and future clients throughout these months than usual.
Send Out a Summer Newsletter
This can be either through email, mail or on your social media accounts.
Summer is the perfect time to show that you're a local expert and can be a useful resource. Being connected to your community and widely known locally will bring you referrals quite often.
This is how you show that you are a local expert and a resource people trust.
By no means does it have to be all about real estate. Even if you send out a newsletter at any time, it should never be just about real estate. That's going to tune a lot of viewers out immediately.
When you send out a summer letter, put something together that tells your readers where the fun is happening in your town this summer.
Bring up anything that will interest parents.
This can be:
Concerts
Festivals
Summer Camps
Anything you can think of that parents might be interested in.
You can email it, print some of them out and give them out or mail it out. Next time you speak to anyone that you sent this out too, bring it up with them.
Ask how their summer is going and if they checked out any of the events you told them about.
Summer Themed Blog or Social Media Post
This can be very similar to the newsletter you could send out. It doesn't have to be about real estate. But a blog post or Facebook post is a lot easier to relate back to real estate and link to somewhere on your website.
This is where you can come up with some great list ideas.
20 summer maintenance ideas, ten landscaping ideas, tips to clean up your garage and keeping up with your pool for cheap are some of the types of posts that would appeal to the summer crowd.
If you're more than just an agent, then your audience will come back more of the time.
Here's an excellent example of a blog or post you can have.
"How to keep your electricity bill low and stay cool."
Then have tips like:
Add plants outside (or even inside) to bring more shade in and around your home.
Learn how to program your thermostat. Most new ones come with automatic settings to save money but also keep the home cool by running at the best times.
Think about adding a fan. Or bringing in portable ones. They will allow you to set your thermostat higher and stay just as cool.
Install room-darkening blinds.
Look into transparent coating for windows that blocks heat.
This is the type of information that homeowners will always look at. There's a direct benefit in it for them.
Summer Landing Pages
Use some of those blog ideas or other ideas for a summer opt-in for their information and email.
Top 10 DIY summer projects, vacation checklists and 15 things to know before listing your home this summer are some ideas people could opt-in for. You can require them to opt-in to get this information.
This is the only way to guarantee that you will get a visitor's email address.
Make this a huge summer.
Stop By Your Past Client's Houses
This works perfectly for your previous customers who have kids. Just stop by and give them some summer themed gifts and use the opportunity to check in and see how they are doing.
It's a great way to stay in touch with them. It serves as a reminder to them about you.
Gift cards, flowers, toys and anything summer related are great trinkets of your appreciation. This is only going to improve your chances of getting referrals from them as well.
Put Together a Community Service Day
This season is the best time to hold any community service event.
This idea is a little more outside the box, but it's a brilliant way to help establish yourself as the local authority. Work with a local charity to put together a food drive or a beach or park cleanup.
You want to be well known around the community with this type of reputation. Everyone wants to work with that realtor.
You should choose something you're passionate about. That way your clients and everyone else will know this is a sincere gesture.
Thoroughly organize it with snacks and food for the volunteers. If you want to go really far, make t-shirts for the event.
Take pictures with all your volunteers and put them on your social media. If you have a blog you should post about it.
Send out a newsletter and a recap to your email list as well.
Host a Home Staging Demonstration
Summer is one of the biggest times of year when homeowners look to get outdoor and even indoor home improvements done.
Hosting a seminar for free that shows owners home improvements and staging tips demonstrated in some way is a great way to generate potential leads.
Give out some gift bags and food to make it an even better environment. Market it as open to anyone, not just existing clients and create Facebook ads to target your local audience.
On the day of the event, bring information and helpful material to give out.
It can be about what you are talking about or real estate related. Have your contact information on it as well.
Host a City Scavenger Hunt for the Young Kids
Make it for parents with their children who are 12 or younger.
If the children are small, having it around a local park or in a residential neighborhood might be easier than a bigger area.
Make it feature local business and work with them to let them know. The prize can be something locally-themed as well.

Host a Picnic or a BBQ at a Park
Don't spend the whole time telling families about your real estate business. This is just a place to get closer to your guests and former clients.
When they leave you can give them some information. Have it at a park so the parents can watch their kids play.
Picnics and cookouts are something almost everyone does during the summer.
It should be easy to get people to come out to this.
This is one of the best times to invest in past and future clients.
Make sure your focus is on both of these. You can increase your referrals and make your sphere of influence so much bigger this summer.
Prepare ahead of time. How are you going to convert any of these leads if they agree to meet with you? We'll discuss this in another entry.