Metaverse real estate, in Mark Cuban's opinion, is "the dumbest" idea ever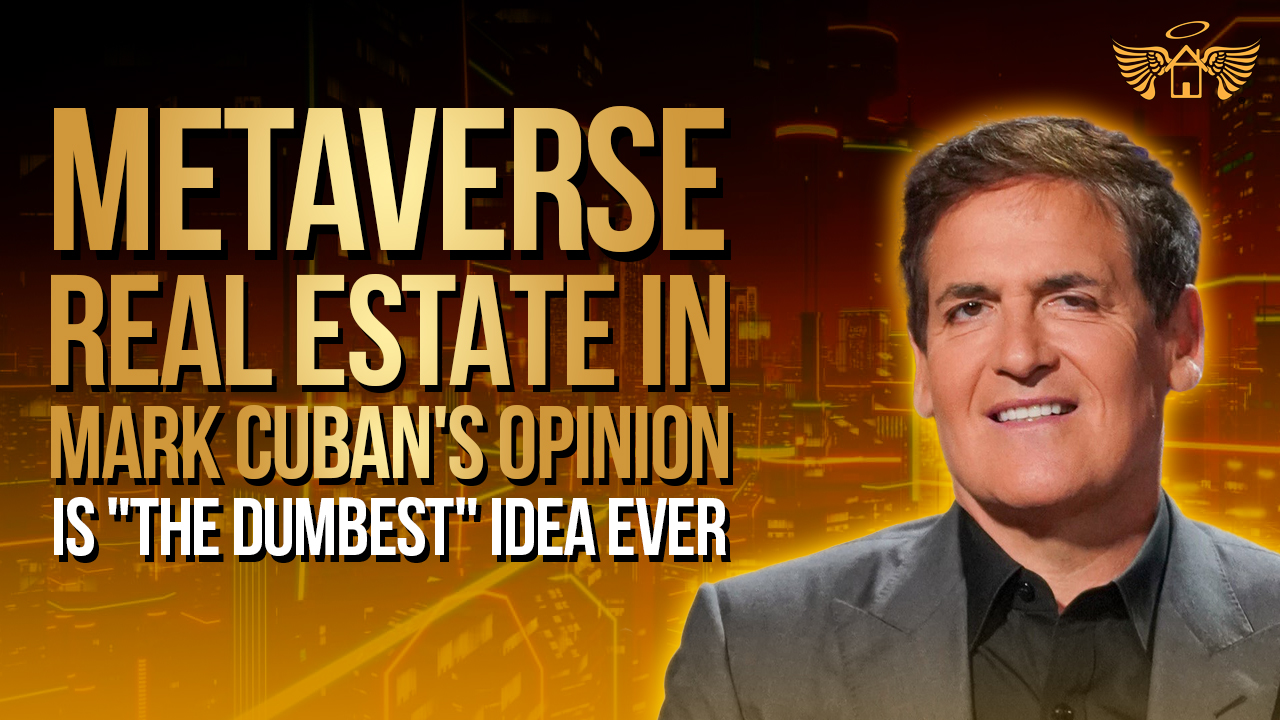 We all know that there are many investors knocking on the doors of the cryptocurrency space and trying to figure out what will work best for them, but as a result of that, all markets across the board are also becoming saturated with this influx of new money. This has made it difficult for newcomers to find profitable investment opportunities and has also caused quite a bit of market volatility. 
Luckily, you are in Real Estate Heaven. In this blog, find out why one investor's idea about investing in crypto is "the dumbest" thing he could think of!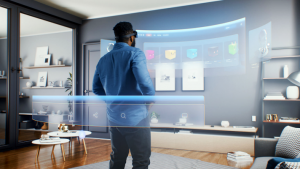 Billionaire Mark Cuban has backed a number of blockchain-based projects using his money as an investor.
However, acquiring digital land in the metaverse? That's a bridge Cuban can't cross.
"The worst part is people are [expletive] buying real estate in these places," Cuban said of crypto-based metaverses. "That's just the dumbest thing ever. The dumbest, dumbest — did I say it was dumb? No, that's not strong enough. Super, meta, immaculately dumb."
A recent interview with the hosts of the YouTube channel Altcoin Daily featured the billionaire investor and owner of the Dallas Mavericks basketball team expressing his strong viewpoint.
In these metaverses, non-fungible tokens, which are distinctive digital tokens, are used to buy and sell virtual parcels of land (NFTs). The virtual landowner can then create uses for that plot, such as video games, online stores, or event venues, or try to rent it out to other people.
Both of the major metaverse projects that have recently been introduced or are now under development—The Sandbox and Decentraland—pitch investors on the premise that they have a set quantity of virtual land that will not vary. This provides NFT investors with the theoretical basis of scarcity, which supports value in actual real estate.
Cuban, though, questions whether the amount of virtual land is indeed finite. It's unclear whether he thinks that the rules of each metaverse may be changed or whether he thinks that the emergence of additional metaverses could only jeopardize investments. He doesn't seem to be interested in believing that promise of scarcity, though, for whatever reason.
"It's just like if — it's not even as good as a URL or an [Etherium Name Service], because there's unlimited volumes [of virtual land] that you can create," Cuban said.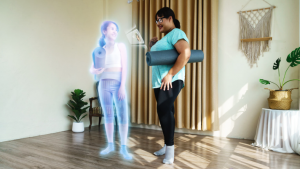 Despite all the talk of the metaverse's future relevance, Cuban claimed that there is still no consensus among internet users as to what the term "metaverse" actually means or how it will ultimately appear.
Virtual reality enthusiasts want the metaverse to reflect this, according to Cuban. "People desire that Web3 serve as the metaverse. There is no rhyme or reason to it yet, but whenever there are more than one people there, things tend to go differently.
Nevertheless, Cuban believes there might be interest in digital assets that primarily serve as a means of gaining entry to closed-door online communities, and these assets may take the shape of "land" in a metaverse. However, he noted that this differs significantly from a concept that is entirely real estate-inspired.
In Cuban's words, "Now, when you develop a community — not before — but after you do, you could find places that, depending on how that community functions, can have perceived value because of access or anything." "But first, though? based on a model from the real estate industry? Most idiotic [expletive] stuff ever.
Moving on, let's discover..
Inside the metaverse: How agents can benefit from virtual real estate
More top luxury brokers are venturing into the metaverse; we explores what agents need to know about this nascent category of real estate
The technology behind cryptocurrencies and the virtual worlds they have sparked, according to James Harris, have captured his attention more and more in recent years.
Harris, a prominent member of the reality television series Million Dollar Listing Los Angeles, is currently one of a small but rapidly expanding number of upscale real estate agents making an early foray into the metaverse real estate market. These metaverses allow for the complete development, sale, and acquisition of digital "land" within a virtual environment.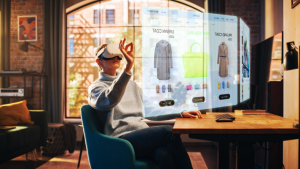 Luxury broker Harris from The Agency said, "If you want to be a part of something unique. You desire to take part in something revolutionary. This is also a revolutionary idea. As of right now, we are very early in this."
This is not an area that agents should enter recklessly, according to Harris and other brokers spoken with for this piece. They listed some of the risks agents face as being scams and chances to make poorly informed financial selections. The early adopters, though, might profit greatly if these systems catch on.
Metaverses, such as the blockchain-powered universes of The Sandbox and Decentraland, have been under development for a while. But major tech firms are also a threat to these cryptocurrency-based environments. After Facebook announced in October that it was changing its name to Meta and investing more in its own virtual world, interest in metaverses skyrocketed.
Long-term, a potential increase in the popularity of the metaverse may present prospects for a new type of agent: a virtual real estate broker who can guide buyers and sellers through the process safely and assist them in making an informed virtual deal.
But those times are most likely still far off for the average agent. The most well-known brokers in virtual real estate today have been working with developers of the metaverse to create and promote properties. Some of them have their own investments in virtual land.
What they have to say about this complicated new frontier and its potential future is presented here.
But, What is the metaverse?
There are many people who are unsure of what a metaverse is. There are many distinct metaverses out there, and each one offers its consumers a unique set of services.
A metaverse is a 3D online environment where people may connect, hang out, and, in some situations, have their own little patch of the virtual world all to themselves. Consider a social network that is more immersive.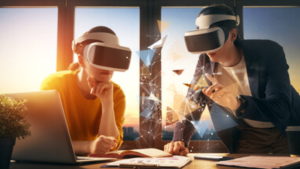 On a computer, a mobile device, or even with specialized virtual reality equipment, one can travel around these metaverses.
The real estate business is not new to the social and professional sides of metaverses, but the idea of buying and selling real estate on these platforms is only now starting to attract attention.
Such a virtual reality setting is the World of eXp Realty.
Brad Inman, the founder of the Inman Group, and Glenn Sanford, the founder and CEO of eXp, spoke in January. Sanford said his company launched the World platform to allow his network of entirely remote real estate agents to interact with one another in ways that are customary in an office setting.
A chance for eXp to raise its profile in the eyes of agents and the general public, however, was also presented by the World, according to Sanford.
"We developed a virtual world in the beginning because we wanted a USP that people would speak about," Sanford remarked during the Connect Now virtual conference. "Something that was distinctive enough that people would find it noteworthy, amazing in the sense that they would talk about it."
In an effort to improve email and video chat communications for an increasingly distant workforce, Sanford believes that many organizations — both inside and outside of real estate — may adopt similar measures.
However, the metaverses that have generated the greatest discussion in the real estate industry are not just limited to a single business like eXp or a virtual office for agents. In these universes, the land itself is up for grabs, and agents are vying for a piece of the action.
Virtual real estate transactions.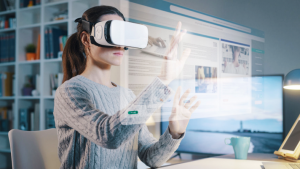 The Sandbox and Decentraland are the two blockchain-based metaverses that are the main focus of the most renowned agents diving headfirst into the young field of virtual real estate.
In both of these virtual worlds, users can use special digital tokens called NFTs to buy virtual land plots. This land can be turned into businesses, homes, or other developments in the virtual economy after being purchased.
Some transactions had price tags that left others in awe.
In November, a property in Decentraland was sold for $2.4 million in cryptocurrency. Tokens.com, which intends to develop a virtual event center and fashion store, was the purchaser.
A few weeks later, Republic Realm, a creator of the metaverse, paid the equivalent of $4.3 million in cryptocurrency for a land parcel in The Sandbox.
The gap between real-world and metaverse real estate is likewise being attempted to be closed.
In order to create and sell a real-world estate in Miami with a close digital replica in the metaverse, Daniel de la Vega, president of One Sotheby's in Florida, is engaged in a significant project this year. That physical mansion's title as well as its virtual equivalent will be offered for sale as an NFT.
The celebrity luxury broker Harris believes that as the metaverse becomes more well-known, more purchasers would want to possess a digital replica of their real-world house.
Harris predicted that many homeowners will be tempted to experiment in this field. And eventually, everyone will start to be drawn to it.
De la Vega, however, doesn't currently envision a strong market for third parties to assist in brokering the usual metaverse real estate deal at this early stage. He claimed that the typical real estate agent's counterpart in the metaverse is still lacking.
They don't exist right now unless a person is very knowledgeable about the metaverse, according to de la Vega.
However, de la Vega claims that with a little inventiveness, an agent may carve out a niche for himself in this society and perhaps even charge a commission.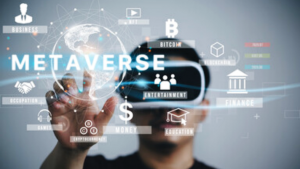 According to de la Vega, in order to succeed in virtual real estate, one must become an authority on these intricate metaverse transactions. They would need to comprehend cryptocurrency wallets and exchanges, particularly the Ethereum blockchain, which powers Decentraland and The Sandbox. In order to protect their clients from fraud and phishing tactics, these agents would also need to have a firm grasp of bitcoin security, he added.
De la Vega said, "My recommendation to a Realtor would be to truly grasp how you can create value, and how you can essentially maybe be able to charge.
Agents facilitating transactions in the metaverse must educate themselves on the kinds of properties that are wise investments there if they are to provide clients with advice, according to Harris.
"Honestly, I wouldn't say that it differs from the real world. Concentrate on the three most important locations. Think about the limited supply," Harris added. "The same factors you would consider when purchasing a home."
According to de la Vega, one of the primary obstacles to entry in this market has been the dearth of materials aimed at educating real estate brokers about the ins and outs of the metaverse.
The basis of all of this, according to de la Vega, is education. It's decentralised once more. Where did you receive your schooling, then? On the metaverse, you cannot go to Gold Coast to obtain a real estate license.
But that might change if a brand-new type of transaction that benefits from a third-party broker starts to gain traction.
Marketing or investing.
Since there are currently no options to actively broker real estate deals in the metaverse, the agents' major activities are to promote themselves as metaverse agents and to buy digital real estate.
One of Harris' luxury broker rivals on Million Dollar Listing New York, Ryan Serhant, has been a strong supporter of cryptocurrency technology.
In his yearly letter to clients, Serhant stated that he is noticing an increase in the number of clients who got their money trading cryptocurrencies showing interest in real estate. One strategy an agent can use to draw in these customers is to position oneself as a metaverse authority.
In his yearly letter to clients and coworkers, Serhant stated that "our agents are now working on several wallet-to-wallet crypto transactions, both in NYC and Florida – a trend you'll read about a lot in 2022 as wealthy crypto investors try to diversify into hard assets."
According to Sanford, it's not all that dissimilar from tried-and-true real estate marketing strategies.
"How can you as an agent find a way to take things, whether it be what's going on with crypto, what's going on with NFTs, what's going on with the metaverse, what's going on with a lot of these new technologies, and create a niche where people think of that issue, they think of you?" ". 
According to Sanford, a great marketing effort can draw in additional customers even if this method only produces a limited number of genuine cryptocurrency clients.
Even if the majority of your clients don't use the shiny product, Sanford explained that, "the shiny objects [like the metaverse] can be leveraged in a way to generate revenue."
Other well-known metaverse agents are becoming involved in different ways, from investing in cryptocurrencies and metaverse land themselves to working with programmers on branded projects.
Tal and Oren Alexander, two of Douglas Elliman's top-performing luxury real estate brokers, and Republic Realm, a developer of the metaverse, recently announced their collaboration. They aspire to launch a master-planned virtual property brand together that covers at least three metaverse platforms.
With its physical-digital mansion combo NFT, De la Vega's One Sotheby's company is only getting started. Later this year, instructional courses will be introduced.
Although they haven't shared all the details yet, Harris and his business partner David Parnes of The Agency are collaborating with individuals in the cryptocurrency world on their own metaverse ventures.
"I really can't talk about my structure since it tends to be more private and quiet. I hope you understand what I'm saying. However, the folks I'm working with to do this, in a sense, are some very, very significant names in crypto." Harris added.
Which metaverses are for real?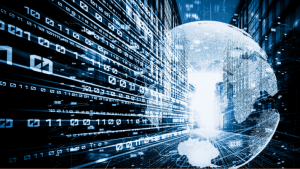 The public seems ready to take an even closer look at this technology as Facebook and other major corporations increase their investment in more immersive, metaverse-inspired experiences.
Decentraland and The Sandbox are engaged in a competition for users' attention and market share among the blockchain-powered metaverses. In one of them, virtual land that has been purchased doesn't exist in the other.
But Facebook, Microsoft, Apple, and other major corporations that are at least investigating this form of immersive world construction will also pose competition for these early metaverses.
Finding a good deal within a specific metaverse is not the only thing that matters to virtual property investors. De la Vega emphasized the significance of choosing the appropriate metaverses.
"As you survey the area, I believe the first query that everyone poses to themselves is precisely that: 'What would happen if another metaverse were to open?'
De la Vega said, "I believe that in the end, it comes down to the first mover theory, and these businesses are the first movers and have made very big investments in [the technology],"
The public's general cynicism of cryptocurrencies must also be addressed, according to Harris, who is an advocate of the technology.
Harris stated that "new things usually make people uncomfortable." "Therefore, it's going to be a combination of people who detest it, people who love it, people who are prepared to learn it, and those who aren't. I also wish to support those who are willing to find out what is happening.
That's it for this blog Real Estate Heaven Fan, remember to subscribe to our channel and if you feel like we've delivered value please share this blog with ONE person. That's right just one person as a token of your appreciation for the hard work we put into making content that educates and helps you on your mission of building your own fortune. Remember you can read blog after blog, but it isn't until you actually take action that you'll start to see results. See you soon!
---