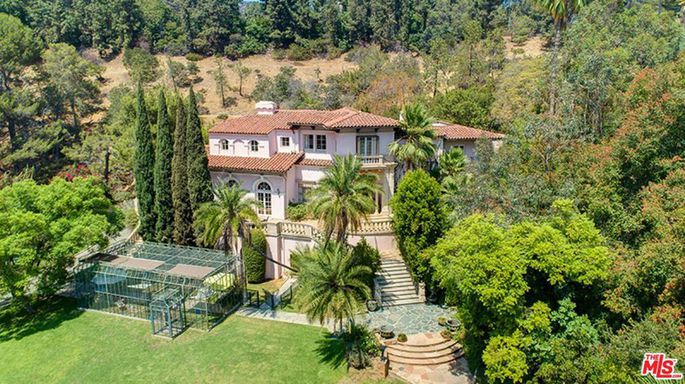 Kirstie Alley Slices $1.2M Off Price of Her Los Feliz Mansion
---
Actress Kirstie Alley hasn't been able to say cheers to her home, so she's chopped $1.2 million off the price tag. After paying $2,998,000 in 2000 for the 8,622-square-foot home in Los Feliz, CA, Alley listed it last November for $11,970,000. But now that it's been languishing on the market for nearly seven months, she's dropped the price to $10,750,000.
Built in 1932, the home is described as a palazzo because of its intricate Italian-influenced design. It's a standout among the many other old Hollywood residences in the area. Apart from the apex of historic Aberdeen Avenue, the home lies on almost an acre of lawns and mature foliage. It backs right up to the famous Griffith Park. And as a unique bonus? There's a lemur habitat on the premises. The Old World grounds also include a pool with a fountain, grottos, ponds, and a long, winding driveway. Many of the historic touches inside have been meticulously maintained and restored, including classic hand-carved woodwork, painted murals, gilded moldings, and decorated fireplaces.
Possibly nowhere are the original features more dramatic than in two of the estate's five full baths and two half-baths. One bath features relief scenes of underwater sea life, with jellyfish tentacles gracefully dangling, while another is based on a tropical garden with flowers blooming everywhere. The six bedrooms have historical features as well, many with elaborate molding, chandeliers, archways, and large terraces accessed by French doors. The kitchen has been updated with an island and modern appliances, remarkable tile walls, and a high, vaulted ceiling. But the butler's pantry and a breakfast nook that leads to an outdoor kitchen remain intact—and gorgeous!
Alley, 68, is best known for her starring role on the TV show "Cheers." Most recently, she appeared as part of the regular cast in the second season of "Scream Queens," and finished as runner-up on the British version of "Celebrity Big Brother."
[/vc_column_text][/vc_column][/vc_row]