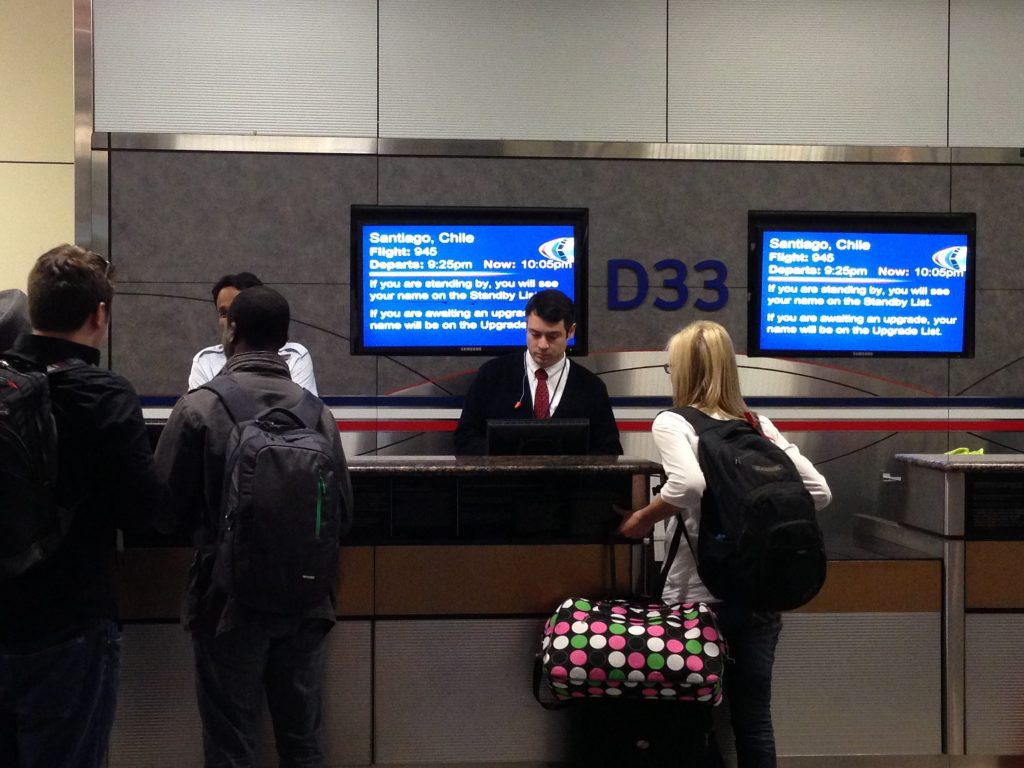 I recently had the opportunity to visit Washington DC and attend the SINC Sports Industry Networking Conference during record breaking lows and a snow storm that delayed many many flights into and out of DC and it's surrounding areas. My entry today, isn't on the incredible content I gathered from the event, though more details will follow.
This entry is on having a "Non-Negotiable Mentality".
When we arrived into DC on February 19th, my wife & I flew into the Baltimore-Washington Airport and drove ourselves into Washington. In blind naivete, I assumed that my itinerary purchased from Expedia would remain the same and that I would depart back to LAX from the same airport I arrived in. BIG MISTAKE. HUGE MISTAKE. With as much traveling as I do, I should have read the itinerary. I didn't. We woke up at 4:30 AM EST, drove 1 hour in snow covered streets and freeways, returned the rental car, and arrived at the Baltimore-Washington airport only to learn that our reservations were at the Washington-Dulles IAD airport. The American Airlines attendant informed me that all flights were fully booked and that my best bet would be to drive to IAD and see if they could get me on my next flight. Rejection #1.
To add insult to injury I would have to pay a cab driver $200.00 to drive us BACK in the same direction we originally drove from, pay a SNOW HAZARD TRANSPORTATION FEE, and we would most certainly miss our flight.
In the cab, and in a frenzy, I began to call American Airlines on my wife's phone, and Expedia on my phone. It took about 15 minutes of being on the phone, but eventually Expedia was able to rebook me on a 6 PM flight out of IAD with an arrival of 9:42 PM. The whole purpose of us scheduling an early flight out was so that we would be able to spend at least one full day with our children before I got back into the office. I DID NOT want to get home at 10 PM but I reluctantly accept the re-booking out of fear that I would not have another opportunity to get home. Rejection #2.
Once we arrived at the airport, phase 2 of my Non-Negotiation began. I approached another Attendant at American Airlines and I noticed that our original flight was delayed as a result of the snow. She promptly called the gate to see if they could get me and my wife on the plane. No dice. At least we were guaranteed a flight home at 6 PM. We checked our bags and decided to spend the day in the terminal. We were both heartbroken, homesick, and we missed our children. It was 8:30 AM. Rejection #3.
Once in the terminal, we thought we'd go check to see if our original flight had left so we took a trip to the gate that the plane was supposed to be departing from and lo and behold, the plane was still there connected to the gate, but the doors were already shut. Something inside me refused to accept my circumstances. I thought, if I could get a hold of one more American Airlines attendant, and plead my case surely, they'd let me on that plane as it was obviously delayed and sitting at the gate.
I went to another gate and found an American Airlines attendant and began to plead my case and hoped he would see the light and get us on the flight we missed that was clearly still there. He proceeded to inform me that our flight was being delayed due to be de-iced and that once the doors were locked, no one could open them. Rejection #4
Then, there was daylight. Our last beacon of hope, then proceeded to inform us that a flight that was delayed from the night before was about to board and was headed to LAX. We asked him if he could get us on that flight, and he transferred our boarding passes for the 2nd time that morning. We got on the flight that departed at 9:30 AM. Our original flight sat at the gate for 2 more hours being de-iced. We made it home 2 hours before the flight that we were supposed to be on arrived.
We knew that we'd have to return to LAX at 10 PM to retrieve our bags as they had already been checked on the flight we were supposed to be on, but it didn't matter. We were ecstatic to be going home to see our children.
What's the takeaway here? We create our own circumstances. I created the mess we were in, but I knew I could also create a way out. My wife and I could have easily given up. We felt defeated and dejected. We had been rejected FOUR TIMES. We were both physically and emotionally drained, but something told me to keep fighting and to keep asking. I firmly believe that God gives us opportunities, but it's up to us to seize them and to keep fighting for them, even when things seem bleak.
Now I know that on the grand scale of things, this incident might seem small in comparison to what some people are experiencing in their own personal lives, and my message isn't to minimize what you might be going through. This non-negotiable attitude or muscle, if you will, gets stronger as you use it. So if you apply it to what might seem small and trivial things, it becomes stronger and easier to use on the bigger more challenging aspects of life. But you don't realize it until you need it.
May we all exercise our Attitudes of Non-Negotiability and stand firm with relation to our faith, our self esteem, our families, and our ethics.
Talk soon!
Paul